---
Tomorrow and Tomorrow (8/5/1940~8/10/1940, Cape Playhouse)
Kerr's first appearance was a comedy by Philip Barry with Ruth Chatterton. Kerr was at nine, he walked on stage forthree lines a night and $10 a week. Kerr played a son of Ruth. A childless wife turns to a psychologist for help. From their clandestine union, a child is born. Years later, when the boy suffers an emotional trauma, the mother sends for his real father, who cures the child. But when he would take mother and son away with him, the wife decides she must remain loyal to the devoted, unsuspecting man she married.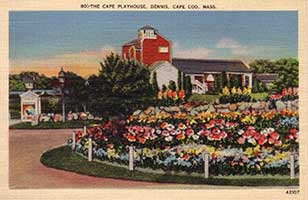 The Cape Playhouse,1945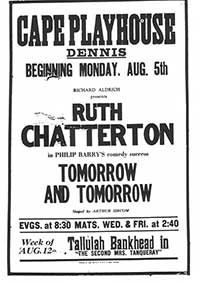 Dream Girl(Summer/1947, Cape Playhouse, 21 seasons)
The 15-year-old, Kerr delighted Playhouse audiences appeared with Jean Parker.
Joan of Lorraine(Summer/1947, Cape Playhouse)
Also Kerr appeared in the role of Jo Cordwell (Jean D'Are) in the Playhouse production with Louise Rainer.
O Mistress Mine (7/19/1949~7/24/1949, 8 performances, Cape Playhouse, 22 seasons)
The 17-year-old , Kerr appeared in a comedy by Terence Rattigan with Gertrude Lawrence,and he played her son, MicaelBrown.
September Tide(Summer/ 1949, Cape Playhouse)
Also Kerr appeared with Gertrude Lauwrence.
---
Billy Budd(1951/Brattle Theatre,Cambridge)
From He rman Melville classic novel, this play led to Kerr's debut on Broadway in Bernardine.
Midsummer Night's Dream (1951/Brattle Theatre, Cambridge)
Twelfth Night (1951/Brattle Theatre,Cambridge)
Opposite Betty Field.
A Sleep of Prisoners(1952/Brattle Theatre ,Cambridge)
The figure is reproduced from the Prompter of Brattle Theatre ;Spring,1951.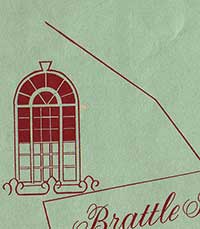 ---
Bernardine (10/16/1952~2/28/1953, 157 performances,Playhouse Theatre)
A comedy by Mary Chase. A Gang of teenagers daydream about the wooing and winning their dream girl Bernardine(the boys'name for their ideal of femininity). However, when one of the lads finally meets a real Bernardine,the would-be conquest turns out to be a friend of his mother, and the affair is over before it begins....a bit rickety as to structure but... a little sweetheart of a comedy. Written by Mary Chase, author of Harvey. Kerr's debut performance on Broadway as Arthur and that year the New York Drama Critics cited him as the Most Promising Actor of the year.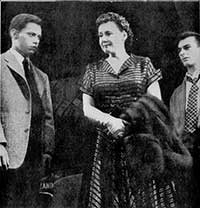 Photo:John K err as Beau(left), Alney Alba as Ruth(center) and Frank Valenza(right).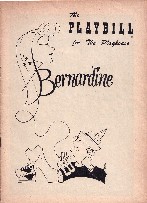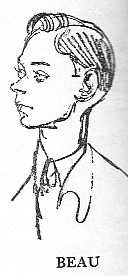 Illustrated by William Sharp
---
Tea and Sympathy(9/30/1953~2/7/1955,712,Ethel Barrymore Theatre) (New York first Opening Night Cast: (John Kerr 9/30/'53~5/30/'54)(Shubert Theatre in New Haven, Connecticut, for first tryout opening,and the National Theatre in Washington, D.C.)
Falsely accused of homosexuality, a sensitive youth is brought to manhood by a schoolmaster's sympathetic wife. Directed by Elia Kazan and Robert Anderson's first Broadway play teamed John Kerr and Debrah Kerr as the confused schoolboy and the understanding schoolmistress. Tea and Sympathy was one of the long running plays on Broadway. Kerr was the first player signed for it. Kerr scored as overnight star on the Broadway. Kerr received the Antoinette Perry(Tony) Award, the
N.Y. Drama Critics as polled by Variety and Donaldson Award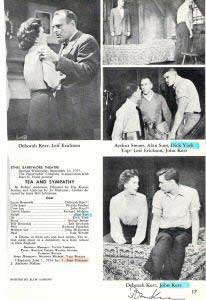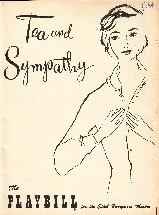 Laura:"No, Tom, no pity.I'm too selfish a woman to like you just out of pity"
Tom:"There's so much I...there's so much I don't understand Laura:"Tom, don't go out tonight"
Tom:"I've got to. That's one thing that's clear. I've got to!"

Photo:John Kerr & Deborah Kerr (is reproducted from Sept.'54 in Theatre Arts.)
---
All Summer Long (9/23/1954~10/30/'54,60 performances,Coronet Theatre)
Opened at the Coronet Theatre in New York City on September 23,1954. It was produced by the Playwright's Company and was directed by Alan Schneider. Setting and lighting Jo Mielziner. Play in two acts by Robert Anderson, adapted from Donald Wetzel's novel A Wreath and A Curse Portrait of a complacent Midwestern family. Blustering father (Ed Begley), bumbling mother (June Walker), brainless daughter (Carroll Baker), whose river bank house is threatended by erosion. Two brothers (John Kerr and Clay Hall) work together to make retaining wall to save their home form the rising river. They fail, the house crumbles, and the family has to flee for its life.
The six members of the household of All Summer Long pictured in Jo Mielziner's single setting. Left to right: Clay Hall, the younger son; Ed Begley as Dad; John Kerr, the older son; June Walker as Mother; Carroll Baker as the daughter, and John Randolph as the son-in-law.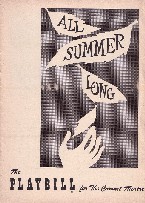 (Photo is reproduced from Dec.'54 in Theatre Arts.)
John Kerr and June Walker were also mother and son in real life. This photo was taken when Kerr was learning to use the crutches, which was part of his role.
(Photo is reproduced from Sept.'54 in Theatre Arts.)
---
Cue for Passion (11/5/1958~11/8/'58, tryout, Shubert Theatre,New Haven, Conn.) (11/25/1958~12/27/1958,39 performances, Henry Miller's Theatre)
Elmer Rice's Shakespeare's play. John Kerr was acting in the pivotal role was a tour de force. Diana Wynyard played his mother; An absorbing psychological drama. Kerr's name appeared the first above the title of a play.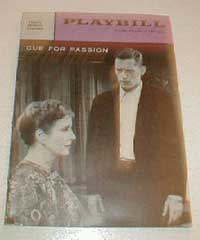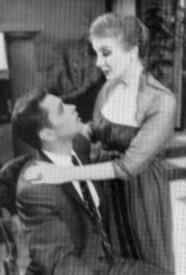 John Kerr and Diana Wynyard  shown with Elmer Rice (left)
During a rehearsal period, had roles corresponding to Hamlet and Gertrude.     
Kerr (left) had the central role of the troubled young man, and Robert Lansing (right) played his friend, a criminologist.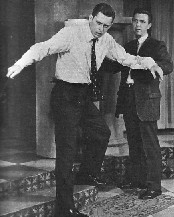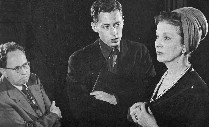 Elmer Rice and Diana Wynyard
---
The Infernal Machine (2/3/1958~3/9/'58,40 performances,Phoenix Theatre)
A revival of the play of the Oedipus story by Jean Cocteau's version in a new adaptation by Albert Bermel,directed by Herbert Berghof,scenery by Ming Cho Lee, costumes by Alvin Colt, lighting by Tharon Musser.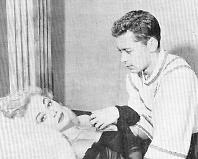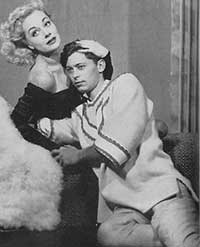 Kerr was partnered with June Havoc
Photo is reproduced from Daniel Blum's Theatre World 1957-58
---
The Tenth Man (11/8/1967~23 performances, New York City Center)
A suicidally despondent acknowledge who is shanghaied off the streets and into a shabby synagogue to complete a minyon (a quorum of ten Jewish men). When the synagogue's elders attempt to banish a demon from the body of one of the member's granddaughters, they discover instead that they have exorcised the evil spirit from the bedeviled tenth man. He, in turn, is forced to acknowlede that faith can sometimes effect miracles beyond the research of science.Paddy Chayefsky's seriocomic fable.
---
Ring 'Round the Moon(1954/Hyde Park Theatre, New York)
By Christopher Fry. Kerr played twin roles; Frederic and his twin brother.
The Hasty Heart (1st Call; 3/24/1959) (4/6/1959~4/19/'59/Fred Miller Theatre, Milwaukee Wisconsin)
Comedy-drama by John Patrick who is also author of The Curious Savege and Teahouse Of The August Moon. Kerr played Lachie. Story tells of a wounded Scotch soldier whose last few weeks of life, spent in a convalescent ward of a hospital in the Orient, are changed by the attitude taken toward him and ultimately by him to his fellow patients. The man's extreme independence of spirit nearly wrecks the good intentions of those who want to make him happy, but at last particularly after he falls in love with the nurse. He learns the great lesson of love for his neighbor.
The Glass Menagerie (7/23/1959~7/27/'59/ Lobero Theatre, Santa Barbara, California)
By Tennessee Williams. Kerr appeared in Santa Barbara Summer Theatre and he played Tom and his
mother, June Walker played his mother,Amanda. A play three acts
Bus Stop (11/29/1960~12/18/'60 Fred Miller Theatre, Milwaukee Wisconsin)
By William Inge and directed by John Kerr. Three acts and Kerr played Bo Decker. The action of the play takes place in a street-corner restaurant in a small town about thirty miles west of Kansas City.
Rainmaker (1960/Wharf Theatre, Monterey, California)
By N. Richard Nash. Kerr played Bill Starbuck.
Five Finger Exercise (1961/La Jolla Playhouse, La Jolla, California)
A play two acts and four scenes.
Sound Of Murder (1961/ La Jolla Playhouse, La Jolla, California)
Directed a British thriller play while Kerr was acting in "Five Finger Exercise".
Love and Like(1962/U.C.L.A. Theatre Group Los Angeles)
Directed a staged reading of this, a play by Herbert Gold based on his story of the same name, at the UCLA Theatre Group in Los Angeles.
Antigone(1962/U.C.L.A. Theatre Group Los Angeles, California)
Tragedy play by Jean Anhouilh. Kerr played Haemon, son of King Creon and Queen Eurydice of Thebes.
Opposite Mariette Hartley"
Hamlet (1963/ Stanford University,Palo Alto, California)
Played Hamlet as an artist-in-residence.
Liliom(1964/University of Oregon)
A fantasy by Ferenc Molnar. Kerr delivered at the Summer Conferences on Contemporary Arts, as a lecturer and artist in residence. This play is Fantasy
Who's Afraid of Virginia Woolf?(1964/Theatre in West Hollywood, California)
By Edward Albee. Kerr produced a play.
Produced 6 plays (1964/ ANTA at Beverly Hills High School, Beverly Hills, California)
Produced by John Kerr for ANTA.
Androcles and the Lion by George Bernard Shaw.
Oedipus in the version by Willian Butler Yeats.
J.B. A play in verse by Archibald MacLeish. The protagonist, a successful businessman who is, like Job in the Bible. Time is Mid-twentieth century, and locale is a large American city.
Waiting for Godot by Samuel Beckett.
Spoon River Anthology by Edgar Lee Masters.
Desire Under the Elms. A famous tragedy drama by Eugene O'Neill. Time is 1850, and locale is a farmhouse in New England.
Mister Roberts (1965 / Melodyland Theater in Anaheim, California),(1965/ Circle Star Theatre, San Bruno, California)
A 1948 Broadway hit. Based on the novel by Thomas Heggen. Kerr played Ensign Pulver, with Hugh O'Brien as Mr. Roberts and Pat O'Brien as Doc.
---
AWARDS1952-1953 Daniel Blum / Promising Personalities Theatre World Award by Bernardine.
1953 The Donaldson Award=Billbord's Donaldson / as Best Supporting Actor of the season by Tea and Sympathy.
1953 New York Drama Critic's Award as Best Supporting Actor=by Variety byTea and Sympathy.
1954 Antoinette Perry Award (Tony Award) / as Outstanding Supporting Actor or Feature Dramatic Actor= The American Theatre Wing by Tea and Sympathy.
1959: Fiddie Award as the Best Actor of the season by The Hasty Heart.