For most of my life, from the time I was ten years old until I started college, my main contact with my family was going to a movie or a matinee at a theatre in New York. My mother, June Walker, was an actress. When she wasn't working, which was often in those years, I would come in to the city on the train from boarding school, for a weekend visit. My mother loved the theatre. It was her life. We would go to a matinee. Afterward she would take me backstage. When she was working she would bring me to rehearsals and introduce me to the rest of the cast. She used to talk about me to her friends, to anyone who would listen. So backstage or at rehearsals I always heard the same thing: "We've heard a lot about you."
   My father, Geoffrey Kerr, was an actor and a playwright. My parents separated when I was seven and he returned to England. It was ten years before I saw him again. The Second World War intervened. Along with most of my schoolmates, I was raised by women and boarding school teachers while our fathers were overseas.
   When my mother was away from New York, on tour in a play, her cousin, Fay Walker, would meet me at Grand Central Station and take me to lunch and then to a movie. Afterward we would talk about what I was learning at school. I'm pretty sure she was sending my mother reports on my visits every time I saw her. Once in a while I would get into trouble at school and it turned out that my mother always heard about it from Fay. When I was fourteen, at the end of the school year in l945, before the war ended, my mother was on tour in "Life with Father" and Fay had moved to Los Angeles, so I went to summer school and started my first year at prep school in New England that fall. No more movies or matinees on weekend visits to New York. That period in my life was over.
   As a young man, my father served in the Royal Air Force in World War I, and when World War II began he reenlisted in the British Army. He was promoted to major and because of his age was stationed in India for the duration. When he returned to civilian life he had bad luck with a play in London, and for a time was in financial straits. In early 1948 his old friend Kenneth McKenna, who was the head of the story department at Metro-Goldwyn-Mayer, offered him work writing a treatment for a remake of "The Ghost Goes West", a film that was made in the 1930s from a screenplay by another of my father's friends, Robert Emmet Sherwood, the author of the play "The Petrified Forrest". So it came to pass that my father's luck changed and he was brought by MGM from England to Hollywood, stayed with Kenneth and his wife Mary as a guest in their home in Brentwood, and was able to live on his earnings for the better part of a year when he returned to his second wife and their small flat in London.
   On his way home after his work at MGM was finished, he came to New Hampshire for my graduation from prep school. I was seventeen years old; this was the first time I saw him after ten years of separation, and it was as though we were strangers. He attended some gatherings of parents and teachers with my mother. To my surprise they got along fine, and I remember wondering why they had separated in the first place, they seemed to enjoy each other so much. But he was less relaxed and comfortable with me, and I was self-conscious with him: what did he think of me after all those years?
   He gave me a pigskin wallet as a graduation present, with a hundred dollar bill in it. This was a lot of money to me, and I was so surprised I don't think I thanked him properly. What would I have said if we had not been strangers, if he and my mother had stayed together, if the war had not interrupted our lives? I didn't know how conscious I was of the distance between us until I saw him again.
   After my graduation each of us went back to New York. No one met us at Grand Central Station, but this time I felt that I was coming back for good, not just to spend the weekend. My father was going back to his home in England, and I was staying here. For a night and a day my father stayed at his friend Bob Sherwood's apartment on Sutton Place before he left on the Queen Elizabeth. And we spent that day together. We hadn't been able to spend time alone together at my graduation, and this was our first opportunity for that.
   He took me to lunch at "21", one of New York's great restaurants, and then to Radio City Music Hall, one of New York's great theatres, to see an MGM movie, "The Pirate", starring Gene Kelly and Judy Garland. It was as though I was back in boarding school, coming in to the city to have lunch with my mother or Fay and then going to a matinee or a movie, and I remember thinking "Is this what parents do with their kids to pass the time?" "He Pirate" was in gorgeous Technicolor but not very good, and I wouldn't have picked it if I'd had the choice, but we sat through the whole show, including the Rockettes. I think we were there because Kenneth McKenna had asked my father to see the movie, and my father didn't want to disappoint him.
   "The Pirate" didn't give rise to much conversation between us, and after the show we walked back from Radio City Music Hall to Bob Sherwood's apartment on Sutton Place, for the most part in silence. MGM sent a chauffeured limousine to take my father to the ship, and I went with him, at his urging, to see him off and then send a telegram to his wife, Margot, that the Queen Elizabeth had sailed on time. I went on board with him, first to his stateroom to leave his bags, and then up to one of the decks. Across the harbor we could see lights on the far side of the Hudson River, and the oily water lapping at the ship's side. For maybe half an hour we talked about my plans for college and my uncertainty about what to do with my life. I think it may have embarrassed him to have so undecided a son. We stood at the railing of the deck of the Queen Elizabeth until the bell rang for visitors to go ashore. We embraced and said our goodbyes. I remember thinking I would never see him again, that more years would pass with each of us half-way across the world from the other, and that this interlude wouldn't be repeated in our lifetime. He said, "Write to me, tell me what you think." I really did't know what he meant --- think about what? --- but I said I would. I left him still standing at the railing. I waited on the dock for the ship to sail so that I could send the telegram as I promised, and after a long wait it did.
   I saw my father again twice before he died, once while I was in college, and once on a trip to England when I was a grown man with a family of my own. But our first encounter, after my graduation from prep school, stands out the most clearly in my memory.
   I was twenty-two when I played the seventeen-year-old Tom Lee in the play "Tea and Sympathy" with Deborah Kerr. There's a scene in the first act between Tom's father and Bill Reynolds, Tom's housemaster, in which the father asks, "How do you talk to boys, Bill?" John McGovern, the actor who played Tom's father, resembled my father physically, and the question brought back to me with extraordinary poignancy that day and evening I spent with my own father years before. It colored my whole approach to Tom's relationship with his father in the play.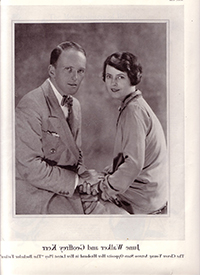 Geoffrey Kerr & June Walker "The Bachelor Father"
   Some time ago, Minae asked me to write a brief "essay" for her website. This reminiscence may not be what she had in mind, but here it is. It has to do with my personal life when I was growing up, and how my personal life found its way into my work as an actor. I hope you will find it interesting.